Bay Tree Events - Marquee & Furniture Hire supplies a stunning range of Clearspan & Capri / Espree Marquees available for hire for weddings, garden parties, corporate events and winter parties throughout most of Berkshire, Buckinghamshire and Surrey.
In addition to marquee hire, we also supply event furniture (tables, Chiavari chairs, Bistro chairs), flooring, dance floors, lighting etc. However if we do not stock what you are after then we will be happy to source it for you. So if you are planning a wedding, garden party, christening, birthday party, corporate function, trade show or village fete, then give us a call – we are here to help!
Clearspan Marquee
The clearspan frame marquee is the workhorse of our marquee hire products. It is strong and robust, offering protection even on the harshest winters day (and night). Our clearspan frame marquees are suitable for lawns and also hardstanding. They can be attached to your house allowing the event to flow from the two spaces. When supplied with a raised solid floor we are able to work on uneven surfaces. The added advantage of our superior raised solid floor system is that it keeps your feet off the cold damp ground beneath on damp and cold days. The clearspan frame marquee truly is an all weather, all season, all terrain marquee.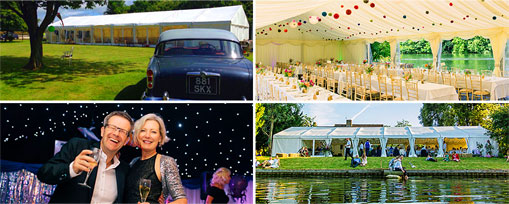 Capri / Espree Marquee
The Capri / Espree marquee is a stunning alternative to the traditional, functional clearspan marquee. Their elegant shape will grab your guests attention the moment they arrive. In addition to their unique design, the Capri / Espree marquee benefit from easily detachable side walls. These enable our clients to add and remove all or selected side walls within a matter of minutes. They not only keep our clients dry on wet days, but they are also welcomed on hot and sunny days, whereby the overhead canopy transforms into a stunning sun shade, allowing the air to circulate beneath. As the evening rolls in the side walls can be added where desired to block an unwanted chilly breeze. They truly are a versatile marquee and quite simply stunning to look at.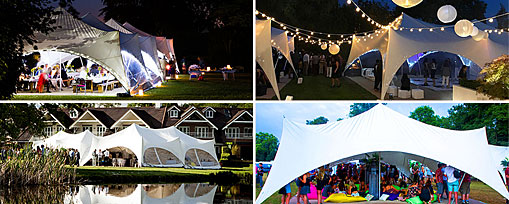 All of our marquees are supplied with side walls and windows!
All prices include delivery, installation and collection, but exclude VAT at 20%
Configure your marquee - its as easy as One, Two, Three
We are ready and waiting to provide a tailored quote for your event. This may be the first time you have organised an event, therefore feel free to be as vague as you want when you contact us with your enquiry and we will help you every step of the way. Alternatively follow our step by step guide below to start building the component parts for your marquee event.
STEP ONE:
 Select the marquee style and size from our guides above. All of our marquees are supplied with side walls and windows.
STEP TWO: Select from our lighting options.
Raised Sold Floor
The Roder HTS Hocker Solid Flooring System - Our clearspan frame marquee range can be installed with an optional solid raised floor. This should NOT be confused with a simple wooden boarded floors supplied by some of our competitors. A boarded floor simply consists of a series of interlocking boards placed straight on the ground. Our superior flooring system is raised off the ground and our wooden boards are secured to a rigid metal subfloor system, which in turn is bolted to the physical marquee itself. This ensures that the marquee floor is perfectly level and flat, even if the ground below is uneven. It even allows the marquee to be positioned across two levels. In addition, our raised flooring system ensures your guests feet are kept off the cold damp floor below. Add a marquee heater to the mix and your guests will think they are in the comfort of your home or cosy hotel venue!
Please note that carpet is supplied with our wooden floor system and is included in the prices above.