Bay Tree Events - Marquee & Furniture Hire is able to offer a superb range of event furniture hire in and around the Berkshire, Buckinghamshire and the Surrey area. Autumn & winter discounts are available on all of our event furniture hire and dance floor hire from our base in Maidenhead. Our current stock of event furniture consists of chair hire (limewashed wooden chiavari chairs & stackable white plastic bistro chairs), table hire (6ft trestle tables, 5ft round tables and 4ft round tables etc), bar furniture (poseur tables and chill out box seats with coffee tables) and also dance floor hire (both parquet and black & white dance floors).
Delivery is subject to a minimum order of £50. Please contact us for details of our delivery charges.
All prices exclude VAT.
Table & Chair Hire
Limewashed Chiavari Chair & Seatpad – £3.00
Stackable Plastic Bistro Chairs – £1.75
3ft Cake Table – £5.50
4ft Round Table Seating 6 – £6.50
5ft Round Table Seating 8 to 10 – £7.50
5ft6 Round Table Seating 10 to 11 - £8.00
6ft Trestle Table – £5.50
3ft White Outdoor Table Seating 4 – £5.50
Poseur Table – £20
Low level Black Box Seating – £7.50
Black Coffee Tables – Free with every 6 box seats
All prices exclude VAT.
Dance Floor Hire
Parquet dancefloor hire - £1 per sq ft
Black & white dancefloor hire - £1 per sq ft
All prices exclude VAT.
Dance Floor Capacity Chart
As a general rule of thumb when planning an event it is wise to expect 30% of the total number of guests to be on the dance floor at any given time.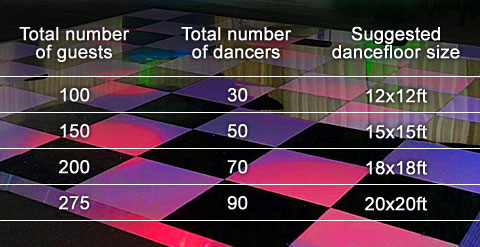 Miscellaneous
Starlight roof lining – price dependant on marquee size
400w speaker / PA system on stand with MP3 dock & Microphone – £50
Pair 600w disco speakers with MP3 dock and microphone - £95
Motorised mirror ball and LED spot lights – £65
GigBar Disco light package – £95
Pair disco lights – £40
Colour changing pinspots (bank of 6) - £20
Staging Units (8 x 4ft) – £25 each
5ft Downlit LED Bar Unit – £95
3.5ft Vintage Bar Unit - £65
L-O-V-E Lit Letters (each letter 2ft high) - £60
3.25ft Lit Vintage Heart - £50
4ft Lit Twinkling Numbers (pair) - £95
Marquee Heater – £150 [more info]
Fire Pits (excluding fuel) – £15
Portable Skittle Alley - £95
Personalised Signs - from £14.75 [ more info ]
All prices exclude VAT.
Stunning marquee hire - whatever the weather!
If you have landed on this page via a search engine, then be sure to check out our marquee hire section also.  We offer two stunning styles of marquees -  clearspan marquees & Capri / Espree marquees - which means we have the perfect marquee for hire whatever the weather, whatever the season. Please get in touch if you would like more information.